Peter Gabriel is a British singer, musician, and songwriter who rose to fame as the lead vocalist and flautist of the progressive rock group Genesis. After leaving Genesis, Gabriel went on to a successful solo career. More recently he has focused on producing and promoting world music and pioneering digital distribution methods for music. He has also been involved in various humanitarian efforts. In 2007 Gabriel was honoured as a BMI Icon at the 57th annual BMI London Awards for his "influence on generations of music makers." Gabriel was also awarded the Polar Music Prize in 2009 and inducted into the Rock and Roll Hall of Fame as a member of Genesis in 2010.
Videos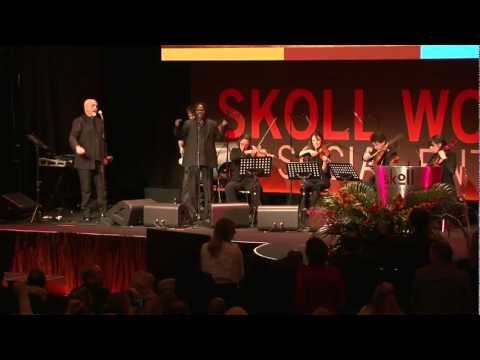 Peter Gabriel and Baaba Maal perform Biko as a tribute to Archbishop Desmond Tutu after he was awarded the Skoll Global Treasure Award at the 2011 Skoll World Forum on Social Entrepreneurship.
2011 Skoll Awards For Social Entrepreneurship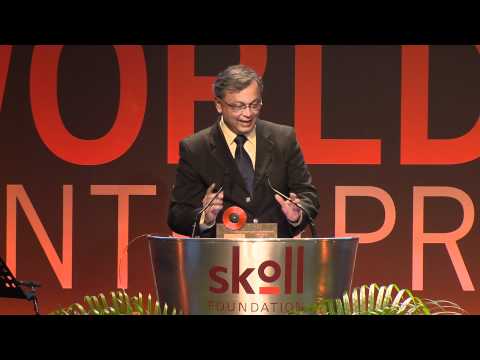 The Skoll Foundation invites you to revisit the Skoll Awards for Social Entrepreneurship where we honour the 2011 Awardees and to celebrate all those who are working to create a peaceful, prosperous ...
2011 Skoll Awards For Social Entrepreneurship
Sessions
Thu, March 31, 2011; 17:30 - 19:00
Speakers: Archbishop Emeritus Desmond M. Tutu, Baaba Maal, Rebecca Onie, Madhav Chavan, Ellen Moir, Ned Breslin, Sally Osberg, Peter Gabriel, Jeff Skoll
Wed, March 28, 2007; 17:30 - 19:00
Speakers: Marc Kielburger, Daniel Viederman, Susan Burns, Muhammad Yunus, Salman Ahmad, Monica Yunus, Mathis Wackernagel, Jeff Skoll, Peter Gabriel, Sally Osberg, Dorothy Stoneman, Rupert Howes, Bill Strickland, Roshaneh Zafar, Joe Madiath, Sebastien Marot, Craig Kielburger, Vicky Colbert