Dr. Besser recognized the need for an education and psychosocial support program that would contribute to HIV/AIDS service achieving the best medical and social outcomes. To fill this void, he founded mothers2mothers, in which mothers living with HIV are employed to work in health centers and communities, educating and supporting pregnant women and new mothers with HIV; increasing the effectiveness of interventions that reduce the number of babies born with HIV and keep mothers healthy and alive to raise their children. Since its inception in 2001, the mothers2mothers has grown to provide services in 400 sites in seven countries in Africa, with nearly 3 million contacts with women each year. Dr. Besser has received Global Health Council's Best Practice Award, Skoll Award for Social Entrepreneurship, Presidential Citizens Award of the United States Government, and is an Ashoka and Schwab Fellow.
Up For Debate
In Response to What Will it Really Take to End AIDS?
December 03, 2012
Videos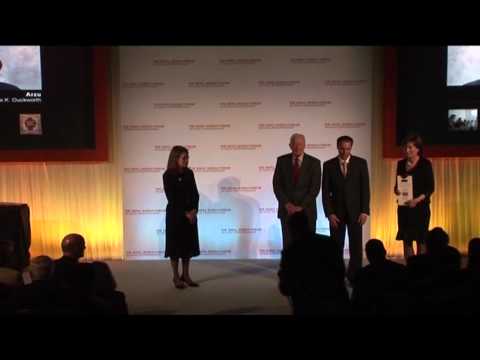 The 2008 Skoll Awards ceremony. Winners were Bill Strickland, Manchester Bidwell; Amazon Conservation Team, Michael Eckhart of ACORE, Connie Duckworth of Arzu, Jeremy Hockenstein and Mai Siriphongphanh of Digital Divide Data; Jenny ...
2008 Skoll Awards For Social Entrepeneurship
Sessions
Thu, March 27, 2008; 17:30 - 19:30
Speakers: Luis Szaran, Gillian Langor, Jeff Skoll, Sally Osberg, Bill Strickland, Liliana Madrigal, Mark Plotkin, Connie Duckworth, Jeremy Hockenstein, Mai Siriphongphanh, Gene Falk, Mitch Besser, Matt Flannery, Premal Shah, Paul Farmer, Daniel Lubetzky, Mechai Viravaidya, Ma. Cecilia Flores-Oebanda, Jimmy Carter