In January 2000 Besser moved to Cape Town, South Africa as a member of the University of Cape Town's Department of Obstetrics and Gynecology and as a consultant for the clinical roll-out of Prevention of Mother-to-Child Transmission (PMTCT) services at Groote Schuur Hospital. While working at Groote Schuur, Besser realized that even when PMTCT medical treatment was available, it was often less than effective because of social, emotional and psychological barriers to success. To help break through those barriers, Besser identified South Africa's HIV-positive mothers as a "valuable, under-utilized resource." Besser enlisted new mothers living openly with HIV/AIDS who, as Mentor Mothers, began to connect with and educate their pregnant peers about the importance of PMTCT services, disclosing their status to loved ones, and living positive lives. The result of these efforts is mothers2mothers today.
Up For Debate
In Response to What Will it Really Take to End AIDS?
December 03, 2012
Videos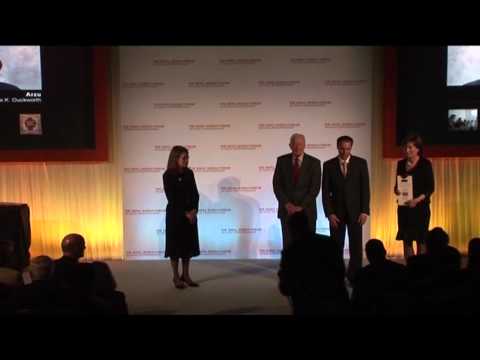 The 2008 Skoll Awards ceremony. Winners were Bill Strickland, Manchester Bidwell; Amazon Conservation Team, Michael Eckhart of ACORE, Connie Duckworth of Arzu, Jeremy Hockenstein and Mai Siriphongphanh of Digital Divide Data; Jenny ...
2008 Skoll Awards For Social Entrepeneurship
Sessions
Thu, March 27, 2008; 17:30 - 19:30
Speakers: Luis Szaran, Gillian Langor, Jeff Skoll, Sally Osberg, Bill Strickland, Liliana Madrigal, Mark Plotkin, Connie Duckworth, Jeremy Hockenstein, Mai Siriphongphanh, Gene Falk, Mitch Besser, Matt Flannery, Premal Shah, Paul Farmer, Daniel Lubetzky, Mechai Viravaidya, Cecilia Flores-Oebanda, Jimmy Carter