Mai Siriphongphanh received her MBA from the Australian Graduate School of Entrepreneurship in 2002. In 2004 she participated in the Global Social Benefit Incubator Program. In 2008, she received the Skoll Foundation Award for Social Entrepreneurship. When joining DDD, Mai took the spirit of leadership, refining its social enterprise model, focusing on human development and re-innovating it as a mechanism for training a new generation of leaders.
Videos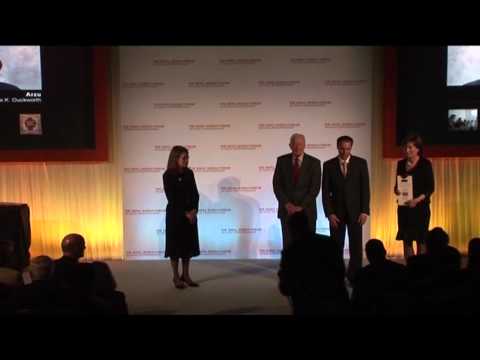 The 2008 Skoll Awards ceremony. Winners were Bill Strickland, Manchester Bidwell; Amazon Conservation Team, Michael Eckhart of ACORE, Connie Duckworth of Arzu, Jeremy Hockenstein and Mai Siriphongphanh of Digital Divide Data; Jenny ...
2008 Skoll Awards For Social Entrepeneurship
Audio
This interactive session looks at cultivating talent throughout an organisation for scale and impact, whether you are working to convert local beneficiaries into operational staff, building a team to scale your organisation ...
Local Talent On A Global Scale: HR Strategies For Sustainability
Sessions
Thu, April 15, 2010; 14:00 - 15:30
Speakers: Jill Finlayson, Mai Siriphongphanh, Pari Jhaveri, Rohan Paul, Sam Goldman, Sebastien Marot
Thu, March 27, 2008; 17:30 - 19:30
Speakers: Luis Szaran, Gillian Langor, Jeff Skoll, Sally Osberg, Bill Strickland, Liliana Madrigal, Mark Plotkin, Connie Duckworth, Jeremy Hockenstein, Mai Siriphongphanh, Gene Falk, Mitch Besser, Matt Flannery, Premal Shah, Paul Farmer, Daniel Lubetzky, Mechai Viravaidya, Ma. Cecilia Flores-Oebanda, Jimmy Carter