Archbishop Tutu is often described as 'South Africa's moral conscience' and is a global champion for human rights. A passionate and compelling speaker, Tutu took the anti-apartheid struggle to the world. In his own country, he led thousands of people in demonstrations, always preaching non-violence. In 1984 he was awarded the Nobel Peace Prize, and later chaired South Africa's Truth and Reconciliation Commission to examine apartheid-era crimes.
Up For Debate
Part of a series on A Special Series on Advancing Global Education, Focusing on Africa
September 25, 2013
Articles
Videos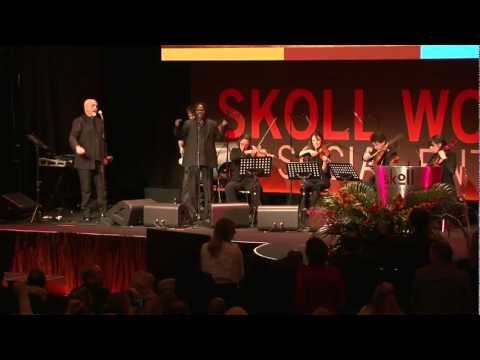 Peter Gabriel and Baaba Maal perform Biko as a tribute to Archbishop Desmond Tutu after he was awarded the Skoll Global Treasure Award at the 2011 Skoll World Forum on Social Entrepreneurship.
2011 Skoll Awards For Social Entrepreneurship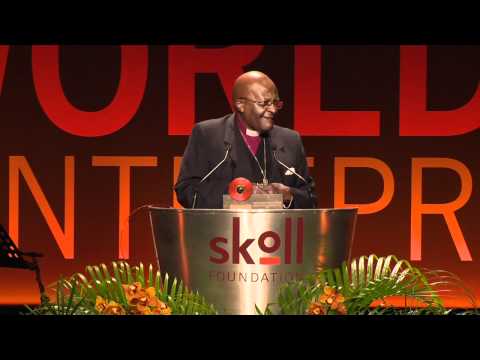 Desmond Tutu accepts the first ever Skoll Global Treasure Award at the Skoll World Forum 2011.
2011 Skoll Awards For Social Entrepreneurship
Audio
Those working to change the world face obstacles rarelyaddressed in traditional leadership doctrines. Vision, risk and uncertainty take on new meaning in realms where lives are impacted by poverty, pandemics, conflict and ...
Deep Leadership: Interior Dimensions Of Large Scale Change
Sessions
Thu, March 31, 2011; 17:30 - 19:00
Speakers: Archbishop Emeritus Desmond M. Tutu, Baaba Maal, Rebecca Onie, Madhav Chavan, Ellen Moir, Ned Breslin, Sally Osberg, Peter Gabriel, Jeff Skoll
Thu, March 31, 2011; 09:00 - 10:30
Speakers: Archbishop Emeritus Desmond M. Tutu, Cecilia Flores-Oebanda, Joe Madiath, Mabel van Oranje, Paul Farmer, Ned Breslin, Sally Osberg, Peter Gabriel, Jeff Skoll